Meet Sterling Rowe!
Sterling has the shortest commute in history — whether he hops into a golf cart to cruise to work or decides to walk, it takes him less than a minute to get going every morning at Camp Cardinal. His home address is right on the Gloucester Point campground, something of a bucket list idea that came true when he became General Manager in December 2022.
The Army veteran from southwest Missouri served in Desert Storm and spent nearly two decades working in electronics before making a career switch that changed his life. His best memories as a kid were camping trips to Oklahoma, packed days with fishing, swimming, boating and the occasional cliff jumping alongside his brothers. He got his start in the industry managing Boxwood Resorts, outside of Kansas City, Missouri. That transition inspired him and his wife, Cassie, empty nesters with their four children grown, to downsize. He estimates they made 50 trips to Goodwill so they could live life out of a fifth wheel.
Enjoying the newfound simplicity, Sterling jumped at the offer to move to Camp Cardinal, enthusiastic to be close to the water and all the activities that go with that. He found a sense of community among the wooded 38 acres, where he's gotten to know seasonal and long-term campers who have become friends.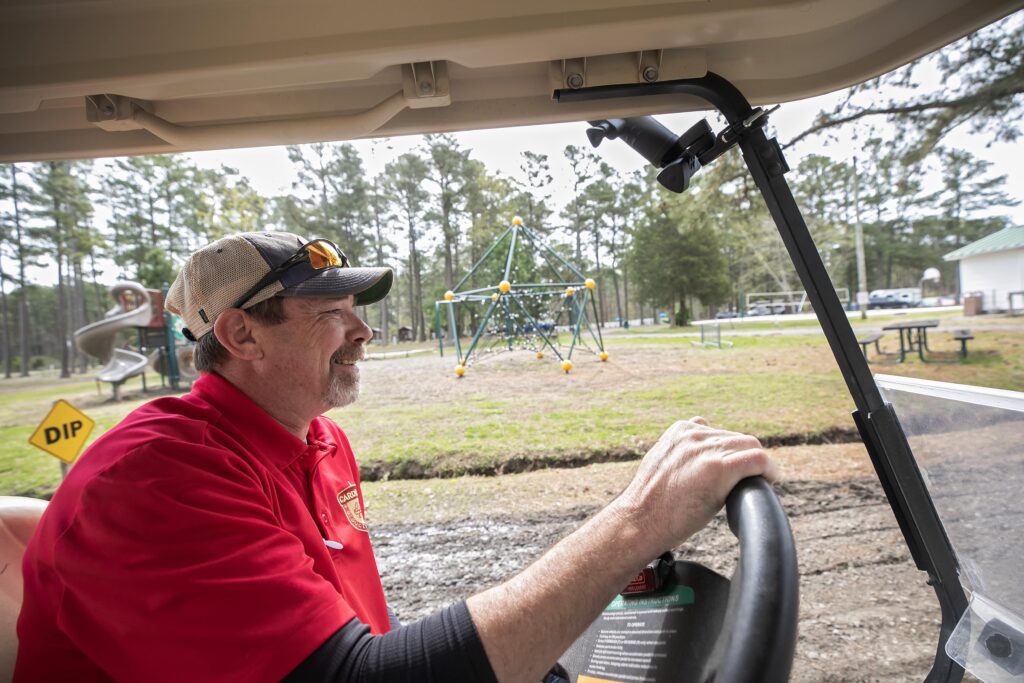 "Somebody has a fire going most every night and everybody is so nice and friendly," he says. "You always feel welcome here."
Sterling looks forward to extending a warm welcome to first-time campers and returning familiar faces during the warmer months, the official season that begins Memorial Day weekend. The Camp Cardinal app that can be downloaded on Apple and Google Play is filled with themed weekends and activities planned for a season of fun.
Sterling is always available to answer questions and address any concerns, adding, "My goal is for everyone to have a great time while they're staying with us at Camp Cardinal."